Welcome to LabArchives
Free Account Sign Up
Sign up for a FREE, fully functional, LabArchives account.


Why Sign up with LabArchives?
LabArchives is an innovative electronic lab notebook that enables you to enter, organize, and store laboratory data. As soon as you create your LabArchives notebook, all data is immediately searchable and can be shared easily within your lab or across the globe.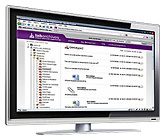 Learn more about LabArchives' specialized features


Are you a member of institution or department that has a site license to LabArchives? Sign up through your institution here.